In a previously published blog post, the Institute shed light into what the future of professional education entails. By investigating the future of professional education, we were able to deduce a couple key points that help bring some direction into the uncertain path of the future:


Due to the pandemic, educational service providers are challenged to develop online platforms that continue to serve knowledge to learners and professionals. This innovation is leading to a more complete educational ecosystem, benefiting millions.
Virtual onboarding and innovative education platforms compliment flexible working which is changing how organisations hire and how people perform their responsibilities at work. This creates more job opportunities and opens access to a much larger talent pool on a global scale.

To further our understanding on the topic of professional development, this blog post looks to explore microlearning. Although we briefly touched upon the topic in our previous publication, we feel microlearning deserves a separate blog entry. With that said, in this blog post we will be looking at what microlearning is and how microlearning can aid professionals achieve their career goals

What is microlearning?

Contrast to how traditional educational systems have been sharing and instilling knowledge for decades, microlearning takes a different approach. The process of acquiring knowledge by consuming short and concise learning activities is known as microlearning. Research shows learning activities lasting between 2-5 minutes are most effective whereas individuals believe the optimal microlearning activity lasts up to 10 minutes.

Furthermore, the concept of microlearning is to provide tangible value via the most efficient and effective means. Since today's fast-paced environment is filled with an endless number of distractions, education has to be designed in a way that maximizes the limited attention span of a modern professional or academic.

Since microlearning focuses on delivering information within a limited amount of time, it must be concise and memorable to be effective. Learning activities must be engaging and encourage active participation otherwise the learner risks drifting away and leaving the learning activity without grasping the concept.

Integrating visuals in learning activities has proven to create a more engaging learning environment. For example, video is a tool that can help learners. Videos involving relatable situations and environments can help learners recall key information at a later time. Infographics are another great example at helping capture the attention span of a learner. Further, infographics are great because they visually stimulate the brain using a range of different colour schemes, charts, graphs, and statistics that help the learner digest information. Other engaging learning activities are interactive audio and mini-games.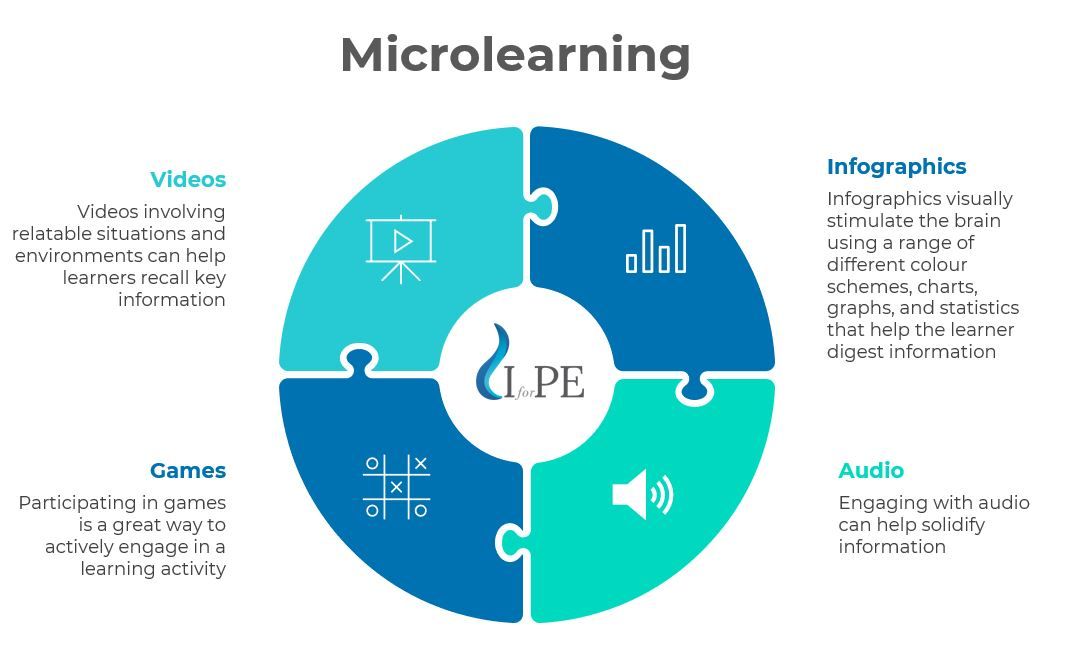 Even though microlearning uses unconventional methods to acquire knowledge, it has proven to be an effective means of learning for professionals and academics alike. Moreover, the fundamentals of microlearning date back to the late 1800s and are built around the spacing effect framework. Simply put, the spacing effect is a learning method that involves repetitive learning performed during spaced intervals. Hence, repetitive learning undertaken during spaced conditions is proven to help individuals store information as long-term memory.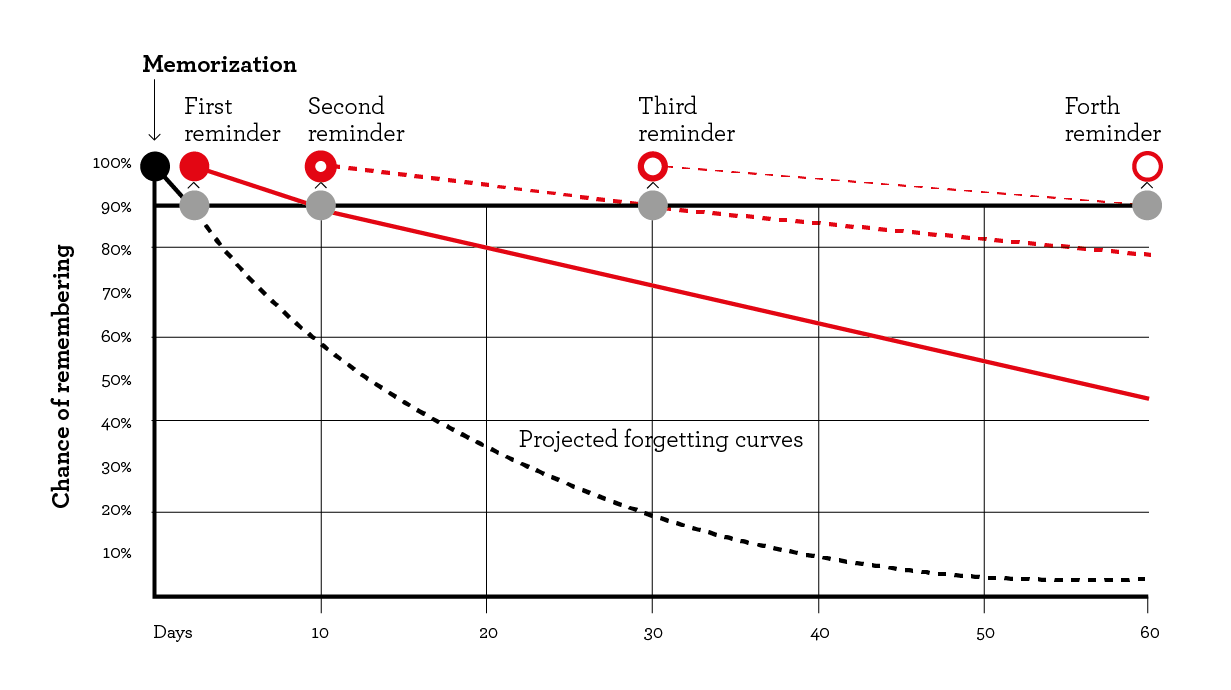 Image source: Farnam Street
How can microlearning help aid professional development?

In our previous blog post, we defined professional development as the process of oneself developing his or her skillsets in ways that enhance workplace competence. Further, as we have now developed an understanding of what microlearning is and how it makes use of the spacing effect, we will discuss how microlearning can help professional development.

Every organization employs a training program however, organizations that get it right understand how to frame content in "chunks" that are easily comprehended by the learning party.

Training programs employing chunk learning make the most out of the spacing effect and microlearning. Moreover, these corporate training programs are good at providing enough information to progress the comprehension of a topic but are careful not to overwhelm the learning party. Once the first chunk of information has been delivered, good training programs use scenario-based learning to cement the newly acquired knowledge. Integrating scenario-based learning has proven highly effective within the workplace as it actively engages the learner into the learning activity. As a newly recruited professional undergoes scenario-based learning, they use the previously acquired chunk of knowledge to immerse themselves into the activity. By repeating the process over a prolonged period of time, the spacing effect is in full force and the learner is able to grasp and implement the delivered knowledge. This approach shows how organizations can design corporate training programs that train and develop their professionals.

In addition to corporate training programs, professionals can apply microlearning within their own free time. Since microlearning is requires short and concise learning activities, professionals can focus on exposing themselves to small information chunks at a time. By spacing out chunks of learning material, professionals begin to enhance their comprehension and over time, instil lasting knowledge to develop their skillsets and achieve their career goals.
How can the Institute help with your professional development?
At the Institute, we provide the platform to deliver comprehensive training to professionals. Our motto,
professionals for professionals
, means all our courses are only delivered by actual practitioners who are experts in their fields. We ensure our learners learn from the very best the industry has to offer.
With that said, the IforPE platform has been uniquely designed to meet the training and development needs of modern day professionals. Further, our courses have been engineered so learners are actively engaged with the learning material. Using multiple techniques of modern-day education, our learning material is broken down into chunks. These chunks comprise of videos, short quizzes, scenario-based learning in the form of mock exams that simulate real certification examinations from internationally recognized certifications and much more.
Additionally, through our collaboration with
SALVUS Funds
, a boutique advisory in Europe, we offer
The Most Complete™ CySEC examination preparation courses
tailor-made for investment services professionals in Cyprus. CySEC (the Cyprus Securities and Exchange Commission) is the national competent authority of the jurisdiction of Cyprus and responsible for supervising all investment services and transactions in transferable securities.

SALVUS Funds has unparalleled expertise in the investment services industry in Cyprus and offers licensing, compliance, and internal auditing services to investment firms, funds, payment and e-money institutions (EMI) and crypto-asset services providers (CASP).
Get in touch
If you have any questions about how we can help fulfil your professional training needs, please contact us -
we would love to help.
From all of us at IforPE, the Institute for Professional Excellence,
Ancora Imparo